Product Details
"Just got my pole today and it is so amazing. I was showing my partner how to use it and he was having so much fun. I love the silicone coat because my hands get so sweaty ! Overall I'm so thrilled with this purchase..." –Luna (verified buyer)
Fit 2 Flaunt Pink Silicone Portable Dance Pole Kit
Easy installation

Static and spin funtionality

Works on carpet

Pole extensions for tall ceilings

Renter friendly
Regular price
$294.99 USD
Regular price
Sale price
$294.99 USD
Unit price
per
Sale
Sold out
Fast Shipping
Quick Order Processing & Tracking
Buy Now, Pay Later via Afterpay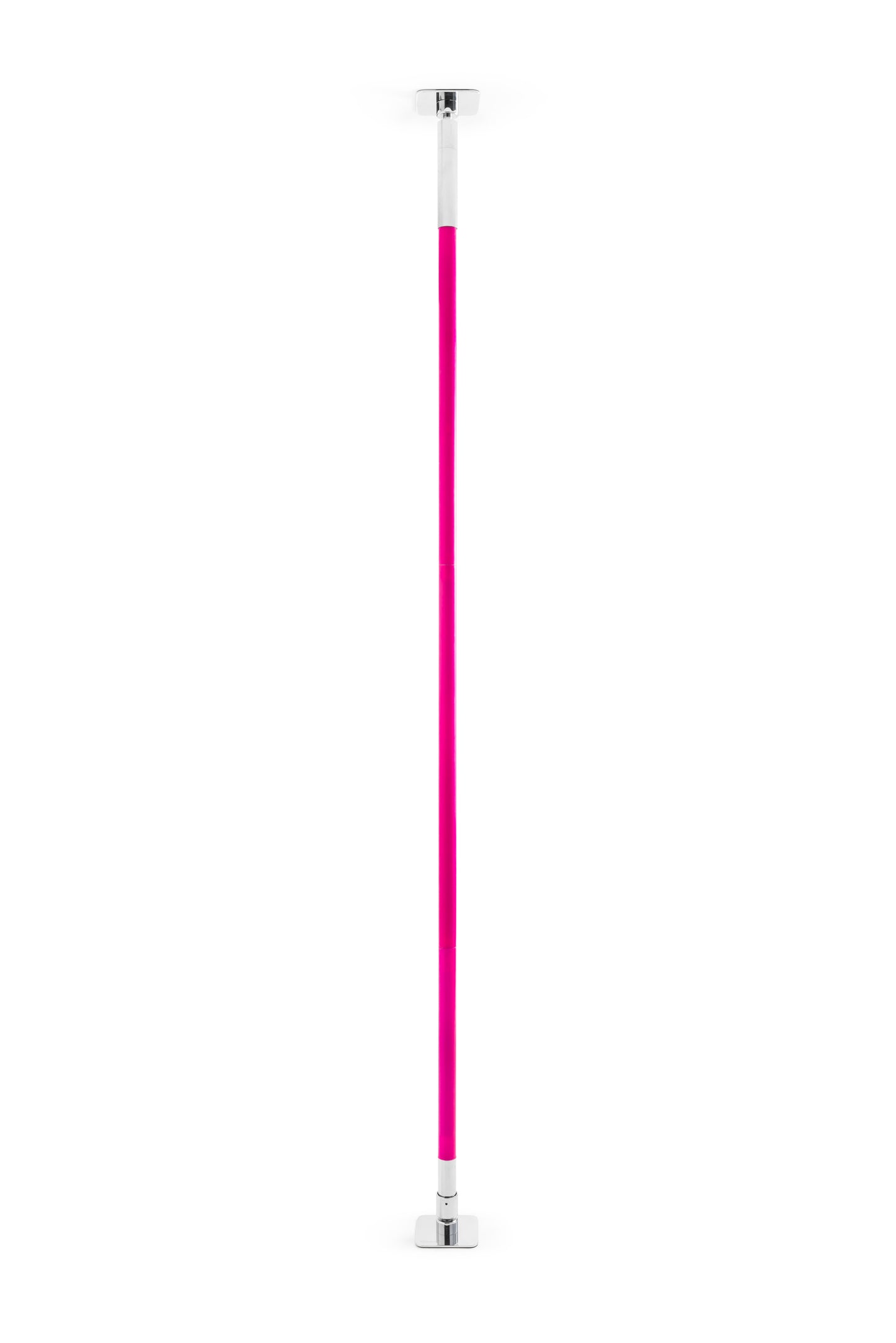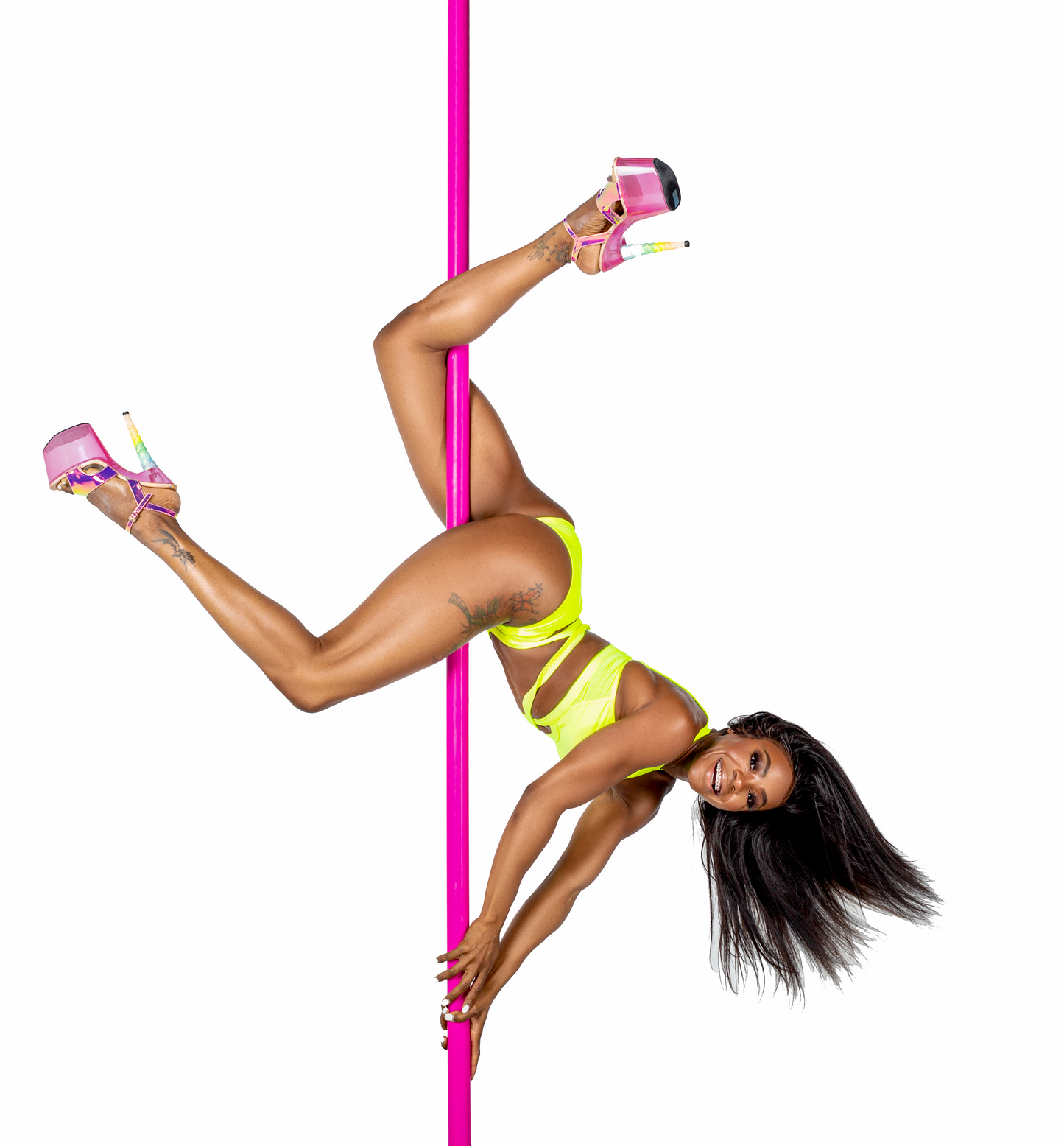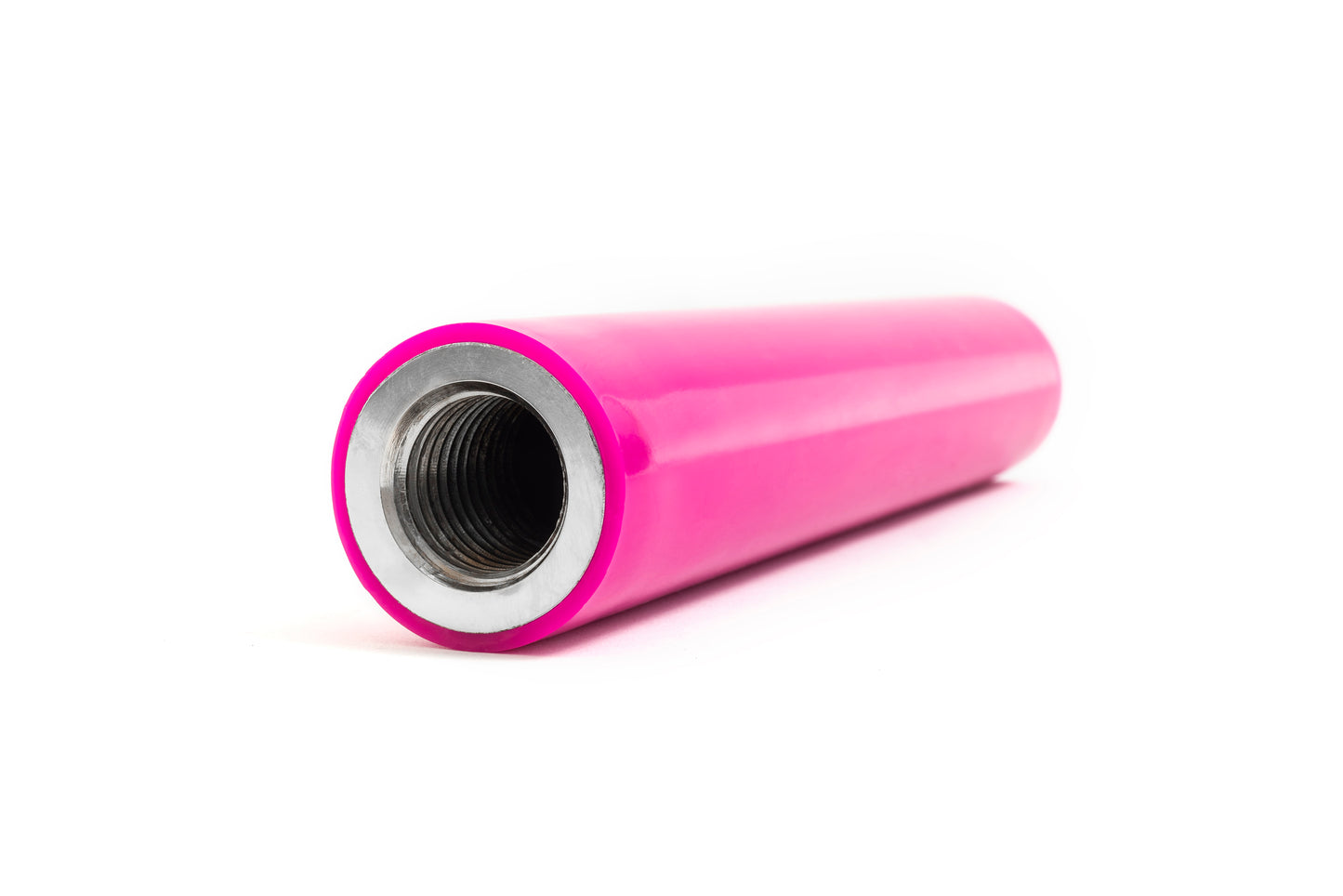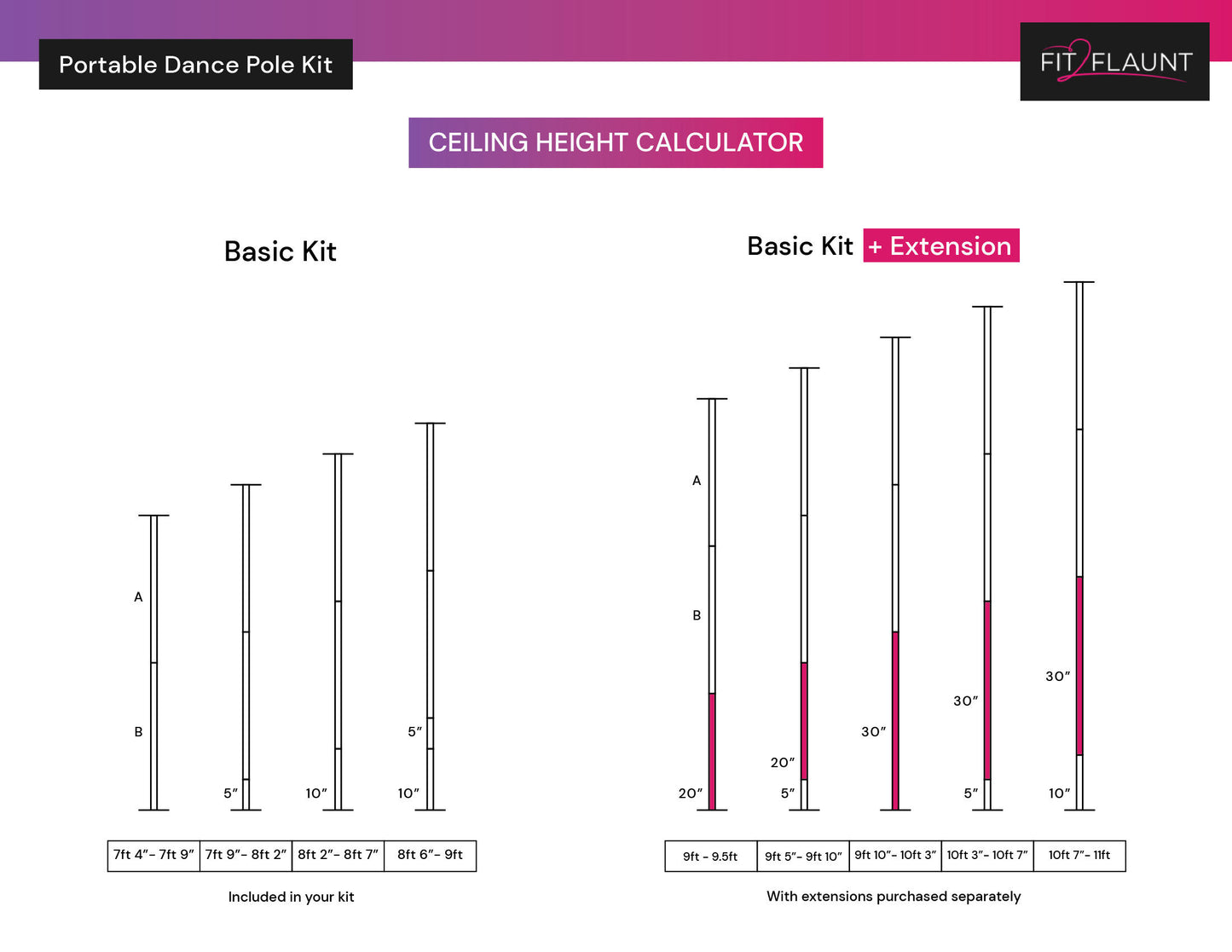 &times
Fit 2 Flaunt Pink Silicone Pole 
Our Silicone coated dance pole kit is perfect for students with extremely sweaty hands or students who want to focus primarily on the sportier side of pole fitness.
Descriptions/Features: This Pink pole is silicone coated and beautifully designed for a VERY user-friendly experience. Pole fitness is a rising sport that many women like you are choosing to train with. This pole is designed to ensure you get the most out of your training sessions with our Fit2Flaunt APP. This pole is an excellent choice for women with naturally sweaty hands, using too much pole grip, or just want to focus more on the athletic part of pole fitness without slipping.
Inside Box:
• Tool kit
• 2 Primary poles ("A" & "B")
• 2 pole extensions (125 mm & 250mm)
• 1 adjustment rod cover
• O-ring
• 1 Top pole base (Square shaped)
• 1 Bottom Pole base (Square shaped)
Specs:
• Mode: Spinning or static (Locking key included)
• Max Weight Load: rated for 150 kg / 330 pounds.
• Pole diameter: 45mm
• Standard Pole Height: 7' 4" to 8' 11"
Installation:
• Our poles are tension mounted, and very easy to install. The standard pole kit (Photo on left) comes with everything you need to install on ceilings up to 9 ft.
Extensions:
• The standard pole kit will fit ceilings 7ft 4in to 9ft with the included extensions, our pole can be extended up to 12 feet with additional extensions. PLEASE MEASURE YOUR CEILING BEFORE YOU PLACE AN ORDER, as so to include your needed extensions. They can be added to your pole order in the dropdown below.
Ceiling/ floor types:
• As of now, we do not have any pole options for vaulted ceilings, but it is something we are working
on with our engineering team.
• Our pole can be installed on Standard floors such as carpet, tile, i.e. a flat horizontal surface. The poles can be installed on horizontal ceilings such as popcorn ceilings and flat ceilings.
Refunds/Return/exchanges:
Due to high shipping costs, all sales are final sale. However please reach out to us via info@fit2flaunt.com
The Easy Way to Install Your Pole at Home
Before you purchase, make sure to measure to your ceiling and order additional extensions if necessary. 
1. Measure your ceiling

The standard kit has extensions for ceiling heights between 7'4 and 8'11.

If your ceiling higher than that, don't worry. Check out our selection of extensions to extend your Fit2Flaunt dance pole up to 12 feet!

Silicone Extensions

2. Assemble your dance pole

Within your kit will be Everything you need to assemble your pole.

If you're using extensions, screw those to the bottom of the pole — never add it to the middle. 

3. Install your pole safely

Please watch the you tube installation video that was emailed to you before installing your pole.

Make sure to find a safe spot directly under a ceiling beamto install your dance pole safely.
Why You Will Love the Fit2Flaunt Silicone Dance Pole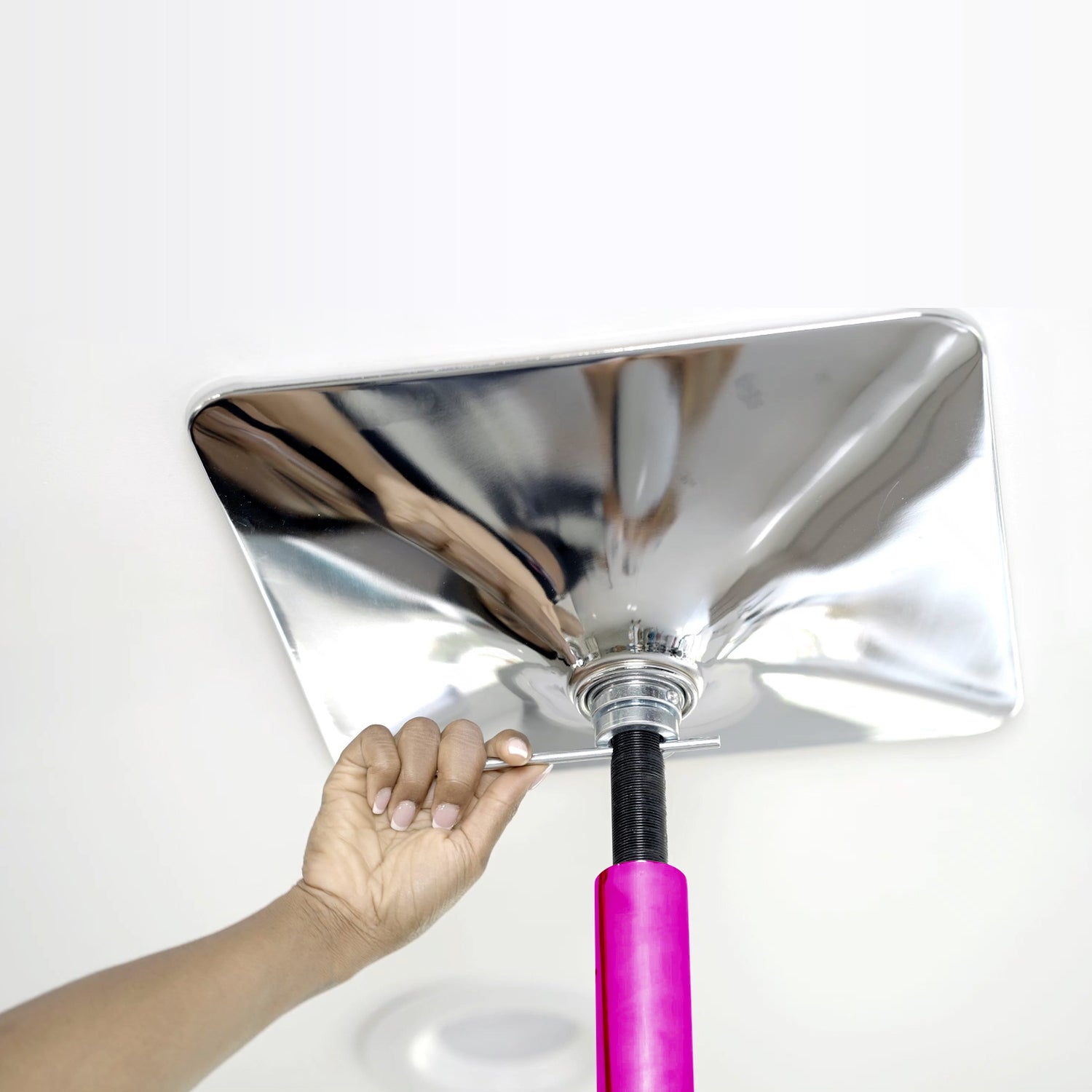 Renter-friendly and Gentle Mounting
Your dance pole should never scuff your ceiling or make you lose your security deposit. The rubbery lining at the edge of the pole's head allows your dance pole to remain secure, while still giving you a protective barrier between the metal and your ceiling.  
"I am OBSESSED! The team helped me when I was struggling putting it up. But easy to do as a single woman! Spins great!" –Jordan D'Nelle
Shop Now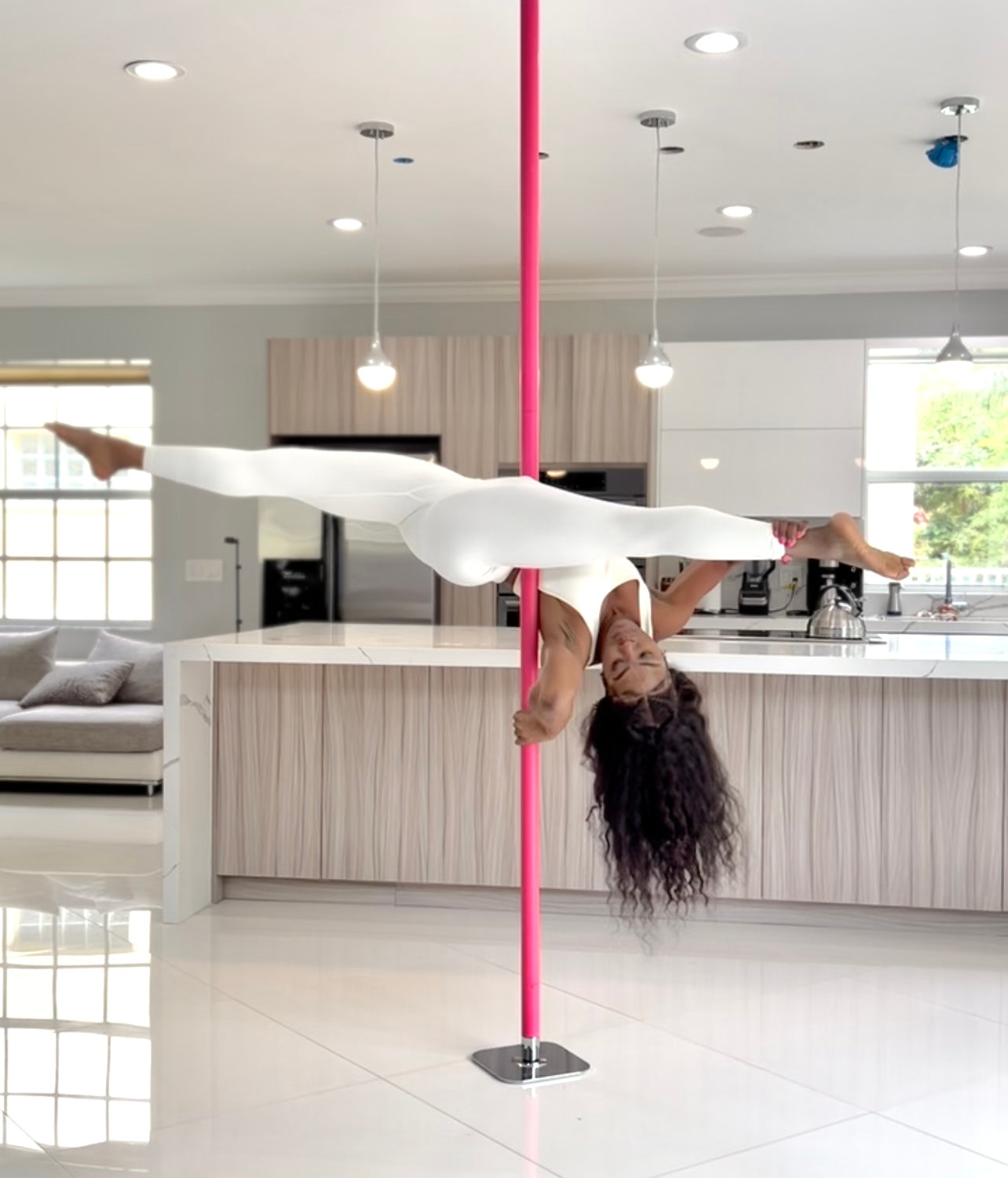 No More Slipping
The silicone lining is perfect for those who have a tendency to slip on their fitness pole. This could be because of grip strength or because your hands sweat.  Either way, the silicone coating has you covered. 
"Pole is amazing!! I love it. I'm so glad I bought this pole & it was definitely worth the wait." –Amber (verified buyer)
Shop now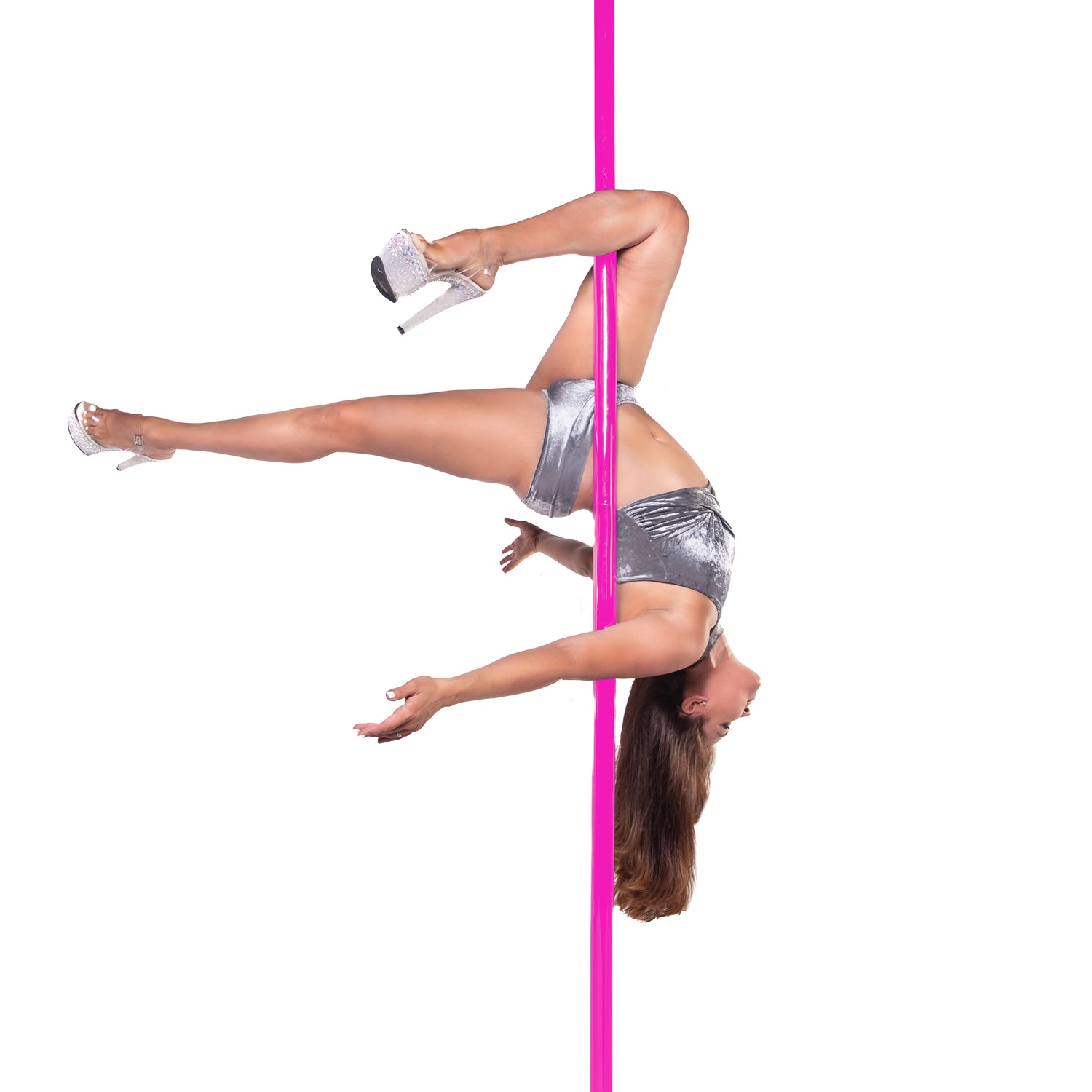 Boost Your Confidence -Nessi
Excited to get on the pole but nervous about taking the first step? You're not alone, which is why so many people love hopping on the dance pole within the comfort of their own home. This Fit2Flaunt dance pole is here to support you every step in your pole journey. Start pole dancing at home today. 
"I absolutely love this pole, shipping was hella fast and amazing. Customer service phenomenal. And the app is everything! Also, Shellys' energy is so wonderful and her videos are so great!!!"  –Liz (verified buyer)
Shop now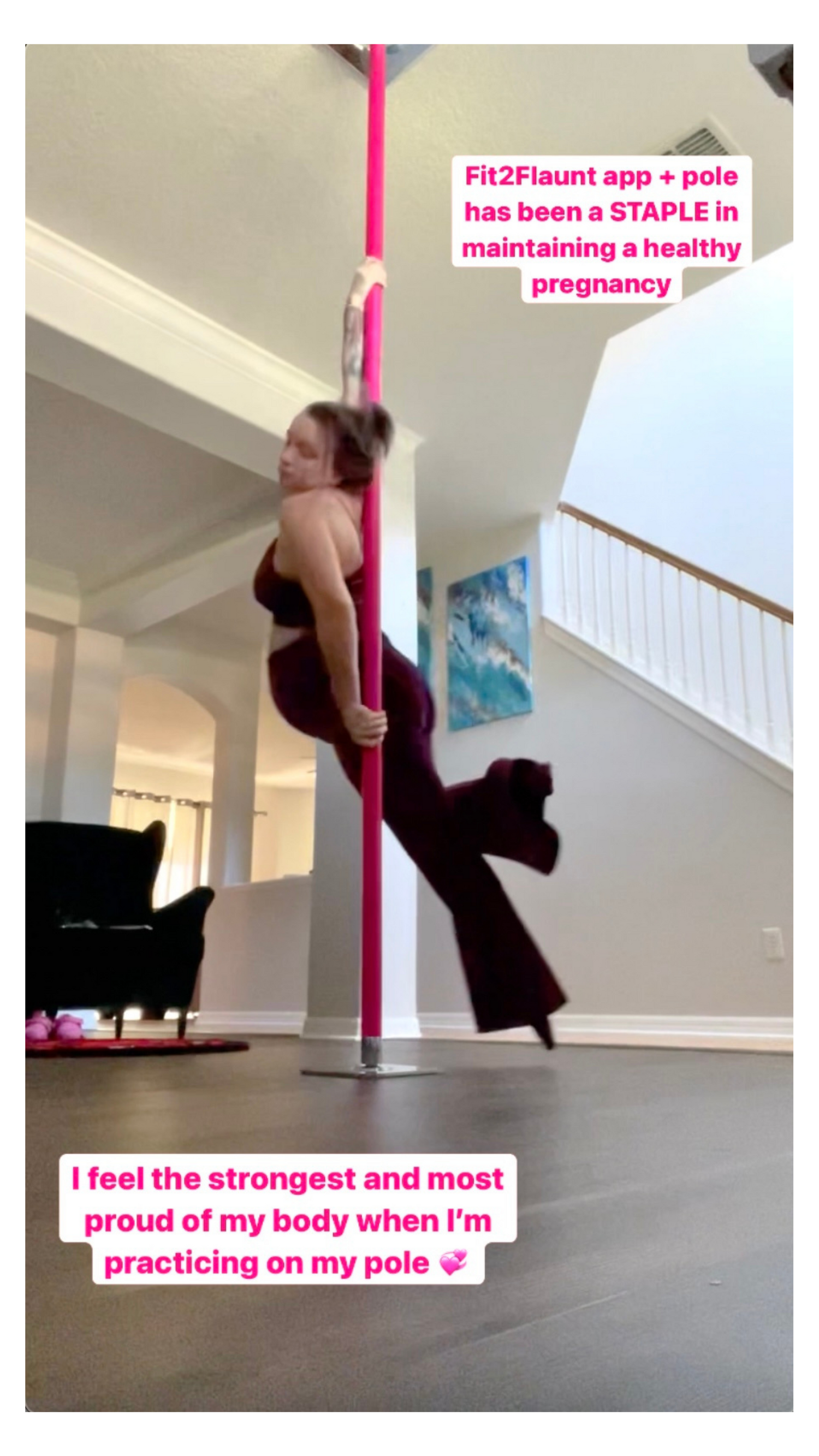 What Makes Fit2Flaunt Better than the Rest?
Fit2Flaunt Silicone Pole Kit Specification
Modes: Spinning & static mode compatible (locking key included)

Max Weight Load: rated for 150g / 330 lbs

Pole diameter: 45mm

Standard Pole Height: 7'4 to 9'

Weight: 31 lbs
Freestanding Silicone Stripper Pole Online @ Low Cost | Perfect for High Ceilings, Silicone Pole, Travel Friendly, Includes Pole Extension, No Tools Necessary, Max Load 340lbs
Experience the passion of pole dancing with the Fit2Flaunt Silicone Portable Dance Pole. Ideal for both beginners and seasoned performers, this pole dance kit provides everything you need to set your stage and discover your sexy confidence.
Perfect for High Ceilings:
This silicone dance pole is designed for high ceilings, with the ability to reach up to 9ft. Its pole extension feature makes it adjustable for various heights, allowing everyone to enjoy the fun of pole dancing. The silicone coating is smooth to touch and provides excellent grip for pole dancing, eliminating the need for hand grip products.
The Perfect Pink Silicone Pole:
This dance pole offers strength and stability for all your pole dance moves. The pink silicone exterior is the perfect shade, making it not just a dance pole but also an exciting part of your interior décor. The unique silicone pole cover ensures a firm grip, aiding your pole dance routines.
No Mounting Necessary:
Fit2Flaunt pole dance pole is a free-standing stripper pole that requires no drilling or permanent fixing. The dance pole kit includes a base for easy setup, making it the best portable dance pole available. Whether you're a professional stripper on a pole or someone exploring pole dancing as a new fitness regime, this silicone dance pole is your perfect match.
Tons of Pole Dance Accessories:
Dancers who are interested in this portable dance pole with base can explore the exciting pole dancing accessories that Fit2Flaunt also has to offer. Including a stretch band, that is perfect for stretch band stretches and warm-up exercises before your pole dance routines. The elastic stretch band will help increase your flexibility and strength, amplifying your performances. We also offer pull up assistance bands, providing a range of resistance levels to enhance your pole dancing workouts.
The Fit2Flaunt Pink Silicone Portable Dance Pole Kit is the perfect package for anyone aspiring to dive into the art of pole dancing. It offers a complete range of pole dance accessories, making it the best dance pole kit on the market. Unleash your inner performer with the Fit2Flaunt pole dance pole today!
Product Specs
Let's dive into the specifications of these fabulous dance poles!
Silicone Pole
Material: Crafted with durable Q235 steel
Tube Diameter: 40mm
Thickness: A sturdy 2.0mm
Finish: Dressed to impress with a shiny chrome plating
These poles are built to last and deliver a top-notch dancing experience. Each kit includes two pole pieces, an instruction manual, and two pole extensions: a 5-inch extension, a 10-inch extension. Additional pole dancing accessories are sold separately.
What makes Fit2Flaunt shine brighter than the rest?
First off, we're not just any ordinary business. We're a small but mighty team that's dedicated to going above and beyond for our customers. We take pride in offering round-the-clock customer support because we know that sometimes dance emergencies strike at the most unexpected times. Need assistance? We've got your back!

But here's where we really stand out from the crowd: we're the exclusive pole fitness company that offers an all-in-one pole kit, tons of accessories, and even a mobile app to help you learn pole dancing right from home. That's right! Need some detailed guidance or step-by-step instructions? Just tap that play button and let us guide you through your pole fitness journey with a big smile on our faces.

We've also got everything a passionate stripper or dancer could ever dream of. From portable dance poles that let you take the party wherever you go, to spinning stripper poles that add an extra dose of excitement to your routine, and an array of dazzling pole dancing accessories that will make you shine like a star.
Is this a patented design?
Oh, you bet it is! Our product is the brainchild of our passionate team who put their hearts and souls into creating something truly spectacular. We rolled up our sleeves and partnered with a top-notch engineering firm to make sure we were on the right track.

We poured countless hours into testing and validating our design because we wanted to bring you the absolute best at-home stripper pole out there. We're talking endless spins, gravity-defying moves, and all-around awesomeness!

And here's the cherry on top: our design is so unique and fabulous that we're currently rocking a patent pending status. That's right, we're in the process of securing that sweet, sweet patent with the legendary USPTO (United States Patent and Trademark Office). It's like getting an exclusive backstage pass to innovation and originality!

So rest easy, my friend. Our stripper poles aren't just any run-of-the-mill knockoffs. They're a symbol of our unwavering commitment to excellence, creativity, and making your dance dreams come true. Get ready to rock the pole like nobody's business with a product that's truly one-of-a-kind!
Are there any screws or bolts or drilling required for installation?
None at all! You can mount the pole in almost any room — no tools required.
Can it be installed on any type of ceiling?
Our pole can be installed on ceilings with supporting beams or concrete. As long as your ceiling meets these criteria, you can confidently install our at-home stripper pole without any issues. We have designed our product to accommodate a wide range of ceiling types, making it the perfect dance pole for high ceilings.
What is unique about Fit2Flaunt Silicone Pole?
No matter if you're just starting your dance journey or if you're already a seasoned pro, our Fit2Flaunt pole kits make installing your very own pole a breeze – no tools needed! We recognize that each dancer's space is special, which is why we provide a permanent mounting option specifically designed for vaulted ceilings. This ensures that every dancer can achieve the perfect fit for their unique space.
What are the specifications of the Silicone Pole?
The Silicone pole features a Q235 steel material and a tube diameter of 40mm. The thickness of the silicone pole is 2.0mm and it is finished in chrome plating.
Experience the ultimate versatility with the Silicone Pole, offering the perfect blend of options to cater to your pole dancing preferences. This remarkable pole brings you the best of both worlds, allowing you to effortlessly transition between a spinning stripper pole or a static dance pole. Whether you're looking to captivate with elegant spins or showcase your strength and control, the Silicone Pole has got you covered. Seamlessly switch between spin and static mode, empowering you to showcase your pole dancing skills with confidence, flair, and limitless possibilities.
What all comes in the box?
Everything you need to get started! The entire kit includes two dance pole pieces, an instruction manual, and two pole extensions: a 5-inch extension, a 10-inch extension. Additional pole dancing accessories are sold separately.
Have Questions? We've Got the Answers!
What are the advantages of using a silicone dance pole?
A silicone pole offers superior grip and a smooth touch, which makes it easier for beginners to learn pole dancing and enables experienced dancers to perform advanced moves. It also allows for pole dancing without needing to use grip aids or exposing too much skin, making it a more accessible option for many users.
Who can use a silicone dance pole?
The silicone pole is suitable for all levels of pole dancers - from beginners to professional pole dancers. Because of its superior grip, it's especially beneficial for those just starting out in pole dance. It's also a great choice for fitness enthusiasts looking for an alternative and fun way to stay fit.
What are the features of a silicone dance pole?
The silicone dance pole is characterized by its smooth, non-slip surface, ensuring excellent grip during pole dancing routines. It is adjustable for various heights, making it adaptable for different dancers looking for a dance pole for a high ceiling. Silicone poles can also be either static or spinning, allowing for a range of pole dance moves.
What should I consider while using a silicone dance pole?
When using a silicone pole, consider the type of clothing you wear. Some materials may not interact well with the silicone surface. Cotton or grip attire is recommended. Additionally, ensure your pole is clean and free of dust or oils, as these can reduce grip. Always warm up properly and understand the limitations of your body to avoid injury.
What should I consider while buying a silicone dance pole?
When buying a silicone pole, you should consider the pole's length and whether it is adjustable to fit your space. Check if it can switch between static and spinning modes. Also, consider the brand and ensure it is reputable to guarantee a quality product.
Why use a silicone dance pole?
A silicone dance pole is a great choice because of its excellent grip and smoother feel compared to other materials. It's especially good for beginners who are building their confidence and strength, as well as experienced dancers performing advanced tricks. It's also perfect for those who prefer to pole dance in more clothing, as it doesn't require skin contact for a good grip.
What pole material is best?
The best pole material largely depends on personal preference and the style of pole dance. For superior grip, especially for beginners or those who prefer to dance with more clothing, a silicone pole is often recommended. Chrome poles or stainless steel poles are also popular for their durability and feel.
What kind of pole is best for grip?
Silicone poles are widely known for providing the best grip among all types of dance poles. The silicone coating offers a non-slip surface, which is especially beneficial for beginners and those attempting more complex moves. However, remember that grip can also depend on other factors such as skin type, temperature, and humidity.
Frequently Asked Questions
What's included in my pole kit?
Tool kit
2 Primary poles ("A" & "B")
2 pole extensions (125 mm & 250mm)
1 adjustment rod cover
1 O-ring
1 Top pole base (Square shaped)
1 Bottom Pole base (Square shaped)
My ceiling is too tall. What extensions should I get for my pole to fit?
Your dance pole extensions are completely based on your specific ceiling height. Refer to the image below to know exactly which extension(s) you may need to grab!
Will my dancing pole ruin my ceilings or carpet?
No, your Fit2Flaunt pole dancing pole will not ruin your ceilings or carpet! Because of the rubbery lining at the top mount, your pole will remain snug while not allowing the metal to rub against your ceilings.

The Fit2Flaunt dance pole is compatible with both flat and popcorn ceilings. Sorry, it's not yet compatible with vaulted ceilings.

As for your carpet, your dance pole will not hurt it. Think of it like the weight of your bed against your carpet – it presses it down, but after the weight is removed, the carpet will eventually form back to its original shape. The same goes for your dancing pole!
I want to start pole dancing but I have no experience. What should I do?
Congratulations on starting your pole dancing journey! We're excited that you're thinking about starting this adventure with Fit2Flaunt at your side.

There is no experience or athletic requirement to start pole dancing. Each person works at their own pace and grows organically. After all, everyone starts somewhere.

If you're looking for a way to learn from home, check out our Fit2Flaunt app. Learn a variety of new tricks and pole routines, as well as train your muscles and flexibility.
Before I purchase my Fit2Flaunt silicone pole, what should I do first?
Measure from your ceiling to your floor. If your ceilings are taller than average (9 ft), Fit2Flaunt has several pole extension length options that can help you mount your pole properly and safely.
I want this pole but I can't afford it right now. What should I do?
That's completely okay, and there are many others who are in the same boat!

This is why we've partnered with Afterpay to allow you to purchase your pole in four monthly payments of $62.50. Afterpay is an effortless option on the wallet if you cannot buy outright.
Fit 2 Flaunt Pink Silicone Portable Dance Pole Kit